PIERS
(DELICATE LOOP BUILDER-NOT A BAND)
http://www.mediafire.com/?mr1djwwezmj
http://www.myspace.com/theweathercouncil
Max starts off his set as only he can using the immediate/live element of his set up, his guitar. Each of his songs start in a gentle manner, and for the most part stay true to the delicate nature of the 'emotion dwelt on, mostly staying within chord structures. Set comes in three movements of around 10 minutes each. During the final of the three, Max loops some percussive strumming of dead notes to great effect. It is within my knowledge that that was in fact, improvised. Twenty Eight Minutes.
PLEASE DEFACE THIS ARTWORK
(PEDAL SHOW)
http://www.mediafire.com/?y3iznzw24oq
Please Deface This Artwork are two men with guitars, pedals and time. They play music in the same sort of vein as previous act Piers, only less structured. That's not to say there is any shortage in structure though. One of the two keep the set focused with a perpetual rhythm guitar, usually playing slow passages ETC for the other to tool around with his collection of pedals, which not only filled the small space on the floor in front of him, but a shelf on his right.
The two guitars are usually on the same level, which is a bit of a let down given the range of pedals which could be making a hellish noise-storm given the chance. The better moments of this marathon session were those where it was possible to hear the effects in well, effect. Thirty Eight minutes.
MARL KARX
(INSECURE TOGETHER)
http://www.mediafire.com/?m2g2ngguynq
http://www.myspace.com/marlkarx
First show we've been able to use our own drumkit. Fourteen Minutes.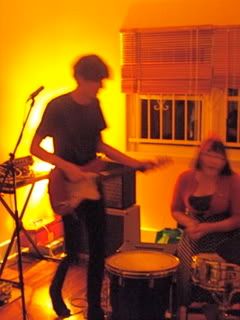 RYAN POTTER + HEART FLEW LIKE AN ARROW
(SONGER SONGWRITER PLUS SHADE OF COLLAB)
http://www.mediafire.com/?yutdmoozwny
http://www.myspace.com/nikkoband
Ryan Potter fronts Nikko, tonight he played a solo set of what I think were Nikko songs? Though I'm not too sure. Adam (Heartflew) contributes to an extent. Ryan plays his guitar and voice. The recording cuts off near the end. Seventeen Minutes.
CURED PINK RADIO
(CONSERVATO)))RIUM OF MUSIC)
http://www.mediafire.com/?1aybfzewrzj
http://www.myspace.com/curedpinkradio
A high pitched squeal of amp noise is fashioned into an intro to the set, immediately alluring. Andrew moans over the top in a high falsetto, to an eerie effect. That caves into the running theme of Andrew's sets, low frequency bass drone churning out of his expensive stack amp deal. Andrew stands solemn, alone with drone for a stretch, until a two note vehicle driven by pure angst and indifference to existence snaps the audience to attention. Caves back into drone, and the set fades away in that nature, but not before his primal scream is reverberated through the pickups of his strat copy, becomes one with the floor. Eighteen minutes.
all photos by ADAM ROGERS, HENCE WHY NONE OF RYAN AND HEARTFLEW