CHLOE COGLE AND LUKE WALSH
??? (A/V ASSIGNMENT PRESENTATION)
Chloe Cogles performance art piece includes her spoken word over electronic drones and large projection which showers the back of the Forest Cafe in a red and yellow haze, which includes pictures of a 70's style lounge room. The accompying music drones in the background with minimal "tribal" style percussion, over the top of this Chloe speaks bluntly in a semi-monotone voice, that is reminiscent of a travel guide. Her story telling style spoken word is humorous and emotionless with its removed tone and analytical style script. The performance starts to take a climax when the synth style electronics increase pace with loud alarming bells. The performance is entertaining but albeit reliant on the background music to create better tension and keep the audience aware of the changing pace of the performance. Fifteen Minutes.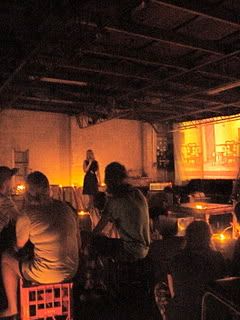 SIMULCAST (
AUDIO VISUAL ASSIGNMENT PROJECT)
Simulcasts performance piece, a laptop/playstation based with remixed 'tunes' starts interesting with the flying colours and lines, differing movement and blasting beats. However, this piece starts to take a different turn when simulcast tries to get other members of the audience involved in the controller movement. Nothing challenging, nothing new. The first two acts tonight weren't recorded, as they were each more of an audio/visual thing. Ten minutes.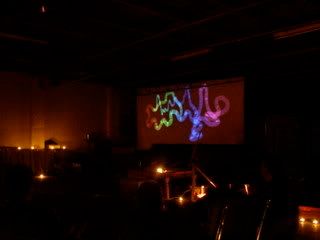 THE IMPROMPTULONS (
IMPROV WUNDERKIND SHOW IN A LONG TIME)
http://www.mediafire.com/?zhemdwojdwk
The set up for the Impromptulons is messy, a bass guitar, slide guitar and electric guitar sit on the stage as the members bring out various instruments, a sax, mini trumpets (??), clarinets, drums and electronic pedals. As the title suggests the band starts off with a chaotic, messy but exciting improvised tune. All the instruments contrast with each other, as the drums as mentioned by Jamie Hume are reminciscent of Animal from the muppets. Sarah = AMAZING drummer. The use of a 3 pronged horn mesh is great. So good. Download. Fifteen Minutes.
LAKES (SELLBOURNE SOLO STALWART)

http://www.mediafire.com/?nuqjmmyi2mj
Lakes set starts intimately, the Melbourne artist sits by himself holding a guitar strumming all strings, with the lower gauge strings all tuned to a drone chord that sets the scene for the majority of Sean's set. Stronger moments are when the rest of his set up it explored, especially the floor tom - the interesting percussion done by himself really draws the set together joining his low tone almost Joy-Division-ish drones together with a texatured basic drumming. Loooooooong… Thirty five minutes.
COLLAPSED TOILET VIETNAM
(ABSURDIST GRIND)
http://www.mediafire.com/?05m5thhjoki
CTV Tonight play their set in two parts, one a blasty-noise blast of time, the second and final half a building sort of exercise. Set's a total joy, Come back again. Seventeen minutes.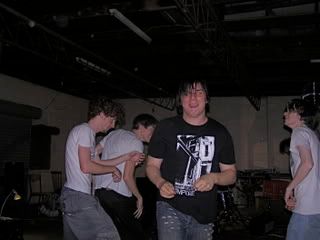 - MICHAELA SOPHIE CHIN + GLEN SCHENAU