CURED PINK RADIO (EX ANOREXIC FAT)
http://www.mediafire.com/?ztvml1nndmj
http://www.myspace.com/curedpinkradio
Tonight's set was essentially the same agenda as the michelton show, only differing slightly, with perhaps the enviroment to credit. The police had already stopped by before anyone had started to warn against noises' loud, so theres maybe another factor WHAT IS THE USE OF ANALYSIS LISTEN TO THE RECO)))RDING Fifteen minutes.



BLACK BIRCHES (NO ANCHOR INCOGNITO)
http://www.mediafire.com/?2im4tdoynwm
http://www.myspace.com/noanchorband

For reasons I think being that two bands tonight under different or slightly altered names played a show the night before together at rics, the masking instead of subtracting bar revenue from a bar venue + bands left it on the shoulders and pulling power of name's original. The first band in question being musical pairing of brisband vets Ian Rogers and Alex Gillies AKA No Anchor. Their set as Black Birches began with Alex manning the drumkit as per usual, Ian on the floor nearby using a laptop, noise purposes. A slow build up eventually saw Ian pick up his bass guitar essentially turning what could have very nearly passed off as a new act (sic) entirely (laptop 'n drum duo Black Birches) into a No Anchor set, complete with solid block bass and powerrrrr. Down and up and down. Fourteen minutes.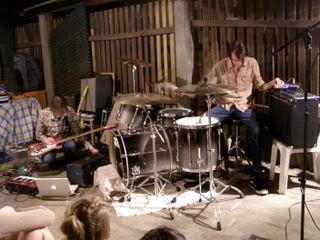 YUSUKE AKAI AND NIK MAYER-MILLER (JITTERY GUITAR/DRUM SAVANTS)

http://www.mediafire.com/?2xzwjylmj2y

AMAZING. Set was like, A LESSON. TOTALLY captivating, recording turned out really well. Yusuke plays guitar like he has completely ignored any sort of formal guitar training, unless it was training of this school in which case KUDOS because FUCKING GOOD! Nik rolls around his towelled down kit as if mentally falling down a set of very percussive stairs IE. REALLY GOOD. NOT ENOUGH CAN BE SAID BUT HERE I AM PS DOWNLOAD THIS. Eleven minutes.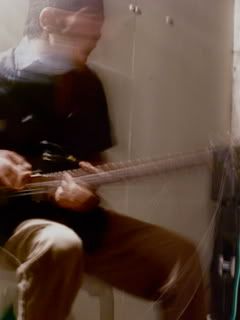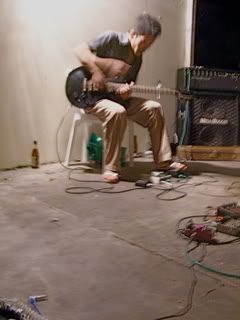 SECRET BIRDS (JAM CHAMELEON BAND)
http://www.mediafire.com/?te5twmemdym
http://www.myspace.com/secretbirds

To further fit with tonight's curated lineup and theme(s) (that being doom/kraut rock), Secret Birds play tonight as an organic, solid, repetitive kraut rock band. Performing with D.black on guitar (as per usual) were a bassist, another guitarist, a drummer and Tom Hall himself operating something electrical, a keyboard perhaps. Droned on a bit, but that's the nature of der genre. Heil!. Twenty minutes.







SPARTAK QUARTET (SPARTAK + MEMBER)

http://www.mediafire.com/?mqydthylnny
http://www.myspace.com/spartakmusic

Second band under circumstances altering their name. Band of course is actually Spartak, but to be fair have another member present during set tonight. Spartak approach the guitar/drum band in a fresh way where musically the guitar lays a bed of soft, synthy passages where the drummer will spasm over his kit-over the top of guitar bed lain down. So the drums are essentially the centerpiece, and rightfully so!. Drummer utilizes his surroundings (read, a ceiling beam) to get more percussion out of his role. That is, when he's not using every space possible on the kit he sits at. Really cool. The extra member didn't really have any audible contributions to their set, though maybe that was due to him setting up very far away from Spartak themselves. Seventeen minutes.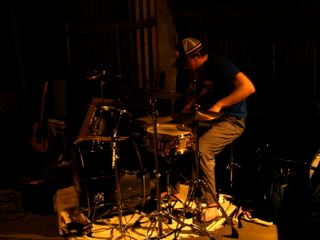 BLACK VITAMINS (AUDIOPOLLEN ALL STARS)
http://www.mediafire.com/?oz21zti2zmi

This so called "super group" features all the members of Blank Realm plus Joel Stern and the guitarist from Tad Guru Band. The set features two guitarists, mini trumpet (?), keyboards, drums and bass. The set starts with a funky dance beat and structured interesting bass which connects well with the guitar. The undertones of droning piano and guitar from the Tad Guru member contrasts well with the "dancey" music and gives it another interesting layer. Finally, the high pitched trumpet "solos" from Joel Stern bring the music to a more improvised 'Audiopollen' feel. Sarah's vocals sound like a mediation and create a STERN background noise. The set is enjoyed by the audience and various audience members dance along. All over it contrasts well with the overall dancey feel of the bands at Audiopollen tonight. Eighteen minutes.