8008 (NO WEAVE)
8008 begins summerwinds 09 with fashionably delayed, distorted and done guitar in what was asimilar to hendrix performing star spangled banner. Second check box checked when he puts down the guitar after 10 or so minutes to play a saxophone in the very same way. Bit overblown I guess.. PS. For the first couple of acts I wasn't aware my iriver had any battery power at all, so there were no recordings of the first couple of acts. Fifteen minutes.
GS
THIS PARTY SUCKS (ACCURATE EQUATION)

This Party Sucks consists of two ex Queenslanders sharing guitar/drum/vocal duties, lending each others musical strengths unto one accurate depiction of what it would be like if one combined Gutters and Nite School. The set starts with Hannah on guitar/vocals, with Andrea drumming. So familiar territory given their backgrounds. Songs were pretty basic, limited to blocky bar-the-same-fret power chords, drums the usual 4/4 beat. Vocals good though. Fun. Ten Minutes.

GS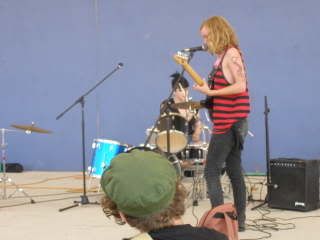 MATTHEW BROWN (SOARING SYNTH SOUNDSCAPE)

Laying pensive on the ground stretched over a bulky Synth, Matthew Brown's set starts with harmonising chords creating a moody atmosphere. Sparse notes devour the chords, in a precise manner. Called a Synth master by peers, Matthew's performance is driven and seemingly planned - which unlike most Synth based performances has a direction which lends it to being interesting, well thought out and controlled. Eighteen minutes.
MSC



ARTS AND CRAFTS (JAM SESH W/ MATES)



http://www.mediafire.com/?nutbqtwgnym

Three piece guitar/drum/bass band Arts and Craft's instrumental set reflected older more tradititonal styles of 'rock n roll'. Some interesting 'riffs' reminscent of Brisbane's old favourites Turnpike. Bouncy bass lines, strong drums and scratchy guitar sounds - enjoyable, albeit self indulgent. Eighteen minutes.
MSC


NO NEWS (SLACK EMOTIONS)

http://www.mediafire.com/?aj2mkwzmnye

No News are from sydney, are an acoustic guitar, low nonchalant vocals and the barest percussion. They open with what is announced as a wasted sperm cover, being summerwinds.
No News were really likable, they only played three songs but it was really good. Eight minutes.

GS
Acid Casualty are Mai, Lei and Hannah. Much like this party sucks, Hannah makes a swap with Lei halfway through, only this time theres a more distinct change in style, given their differing guitar styles. They play four songs, with Lei fronting the band for the first two and Hannah the second two. The first two are pretty reminscent of me mu, but more straight forward with basic drums. Mai's basslines bounce around the songs playfully, giving the songs an extra level of interest where the bass would usually sit in the background for any other band. Hannah's vocals for the second half were right good. Check it outtttt. First song was really catchy. Ten minutes.
GS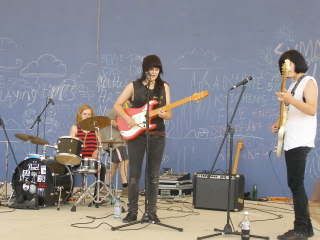 SUPER STAR (LOOPY PEDALLED NOTES)

Featuring looped guitar and various keyboard/synths - Super Star's set has a jaunty feel to it, the high short plucky guitar brings a new fresh, interesting face to the normally lacking guitar loop bands. The synth is placed in the background, used as a foundation. The lowfi, buzzing tones gives Super Star the light and shade contrast. Conjured up images of the Willy Wonka boat ride. Twenty Minutes.
MSC
MSC

MARL KARX (UNREVIEWABLE)
http://www.mediafire.com/?jnm0mzm4nmn
ABSOLUTEN CALFUETRAIL (SELF HELP GURU)
We missed this set BUT we did catch him some days prior doing a set with Ben Andrews. Set was brutal, Mark addresses audience with a piece taken from a corporate guidebook or something to that effect, in a confronting manner through waves of aggressive effects. Power electronics aswell, yes. Best part was when they stopped at the same time.
GS

http://www.mediafire.com/?mfmh4mztjh4
Short solo set - could have taken place at a club. Synth based, hypnotic. Background music really. Pleasant but. So pleasant infact I didn't notice my iriver fail to record set. Seven minutes.
MSC
CIRCLE PIT (GLUM DIRT TROUP)
http://www.mediafire.com/?nwgq2zwk4ym
Circle Pit play today as a five piece, 3 guitars struggle to outwash each other, hazy powerchords and well written exercises in 'song writing writ here. Jack Mannix wearing a black eye, perfect compliment to well maintained und managed image center of the band and it's operations therein. Twenty minutes.
GS
WASTED TRUTH (SKATE PUNK DIRGE)
http://www.mediafire.com/?ntjomdozygz
Two piece, Sean Bailey (Lakes) swapping between bass, guitar and vocals. Harriet Morgan (Downtown, Zond) on drums, keeps a steady flow within the sound - doing some impressive "rolls". Punky, distorted bass/guitar through power chords. Sean wails through the set, with his typical baritone baby vocals. It was alright. Twenty minutes.
MSC
PATHETIC HUMAN (HARDCORE FORMULAE) 
http://www.mediafire.com/?aml1nazzij1
Pathetic Human are a typical hardcore band. The crowd seemed to enjoy themselves watching their high energy performance. Lead singer Tommy Gunn throws himself at the audience occasionally, even making a karate kick mid air. Ten minutes.
MSC
BREAKER MORANT (POST PUNK FANS BAND)
http://www.mediafire.com/?2iymznyy32y
Breaker Morant were really good! obvious influences aside, I really enjoyed their set. First song had a great bassline, and front guy's e smith thing weren't as grating as I expected it. Eighteen minutes.
GS
CHROME DOME (HEADLINERS COKE BLOAT) 
http://www.mediafire.com/?mmtgmmmzja5
Shaun and Ben's "synth punk" band, features Shaun on synth, vocals and Ben on ( ? ). Shaun is a hype-man, pulling "smooth moves" with a smug look on his face - over the incredibly loud, drowning and swooning music. The set is reminiscent of the Prodigy at the Big Day Out, only 100 times lazier and not as many fans. Shaun's persona as the charismatic music maker is entertaining but not as entertaining as Ben's involvement in the band.  Thirty minutes. 
MSC
http://www.mediafire.com/?zzzjdhzeydg
Another transitional piece, featured more as background music. Sit back and enjoy the differing sounds as the sun goes down. Vocal loops create patterns overlapping and contrasting. Loops and pedals are hot. Ten minutes. 
MSC
http://www.mediafire.com/?myvoq1oikym
The spectacle of the band was more memorable than the music. Music was looped differing electronic instruments. With all members charismatic and involving themselves fully in the music, whether running around playing different instruments or throwing streamers. Totally party atmosphere. Twenty minutes.
MSC
SPLIT FOOT (WHIMSICAL SAVAGES) 
http://www.mediafire.com/?mamkcqzetyw
Another interesting performance from Tara and Rex. Rex's beats aren't as solid as usual but he totally makes up for it with enthusiasm. Tara's guitar and vocals are grating with melodic undertones. Referring to their inebriation and addressing the audience as a group of friends, Tara gets fed up with their lack of togetherness and throws her guitar down, storming off. Thus ending Summer Winds 09'. Sixteen minutes.
MSC
no photographic record!